Here Is Your Chance To Ask A Question From An Expert With 14 years Experience In This Industry.
And not just about horse racing...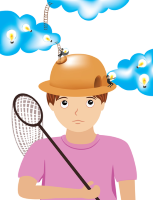 The internet has opened up a wealth of knowledge to us.
With some searching we can seemingly get the answer to anything.
The problem is can we trust the source?
People find out every day that the information they are being provided with by so called "Experts" is actually not as accurate as they thought.
I found this on the web
"in order to be an expert, all you need to do is say you're an expert."
And that's the problem.
The internet is being bombarded with people who have been told that they can set themselves up as an expert with no previous experience.
And they believe it!
How crazy is that?
The Dictionary defines and expert as.
"a person who is very knowledgeable about or skilful in a particular area."
It's not just about being knowledgeable about a subject.
It's about being skilful as well.
And the only way you can become skilful is actually practice your area of expertise on a daily basis.
When you're asking a question you want to know the person you talking to really does know what they are talking about.
That person needs to have proof that they can answer your question…
Hi Malcolm here…
And I want to show you that I can not only answer any question you have about horse racing systems…
…But also in areas you may not have considered before.
I was thinking the other day that I have been involved in this industry for over 14 years now.
I first started a blog over 13 years ago talking about horse racing systems on a site called horseracingsystemsuk.com.
Unfortunately the blog post were lost a few years ago after an attack but the remnants of the site are still there.
Here is my look-up info to prove it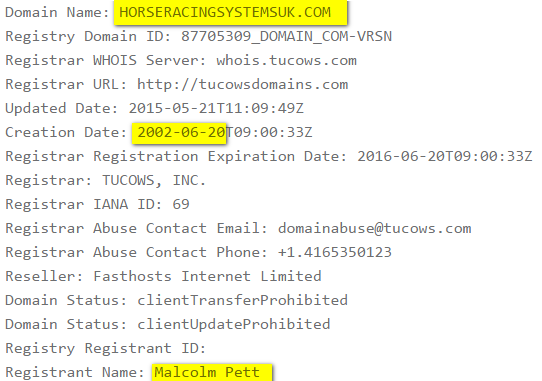 Apart from doing a daily email for over 2 years I also went on to…
Create the Grey Horse Bot which has been selling constantly for nearly 10 years!
Create over 35 different variations for clients across the world.
Create bots for trading and games.
Create an automatic web management system so tipsters can have their own membership site up and ready in no time.
Been involved in many JV's helping to spread the word about new racing sites.
Created a forum
Created an in house horse racing database that allows me to test new idea, create new products and show some amazing results sheets.
Several system development tools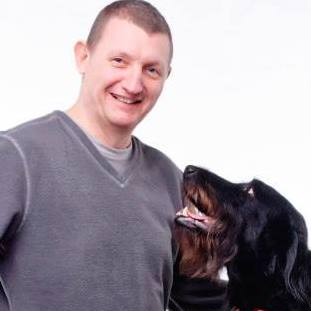 So it got me thinking…
I bet there are people who would like the chance to pick my brain.
Don't get me wrong I am not being "Big Headed" it's just after so many years being involved with racing I have learned a lot.
By "Picking my brain" I mean…
Asking advice about system development (I have created back, Lay and place systems and all sorts of variations on the theme, including trading systems).
Asking for statistical information about horse racing. (We have a database of over 400,000 results so I can run all sorts of queries against the data)
Creating ratings. (A favourite of mine would be more than happy to give advice or help out with your own ideas.)
Automation advice.(As well as creating a number of automatic betting bots I have also been involved in many software projects for automation built around Betfair and other websites)
But horse racing isn't my only passion.
As a programmer and web developer and someone who has sold 1000's of products on the internet.
I am more than happy to give advice about…
Membership sites (and how to make them work)
Emailing prospects (and keeping them reading your emails).
Payment systems and gateways (API and IPN)
API and IPN programming
Aweber, Getresponse, Infusionsoft
Funnels
Surveys
Dynamic Behavioural response marketing.
I even run a Business Development blog.
Again this is not to boast it is to prove to you I am in a position to answer questions with "Authority" on a wide range of subjects.
So how does this work.
Well it's quite simple.
If you have a question then simply book a session here.
Once we receive your request I will personally look at it and decide the best way I can help you.
This could by creating a report if you want data
Getting on a phone or Skype call
Creating a "How to video for you"
Even programming something up for you to use.
There are lots of ways to help you.
It's that simple.
And it is totally risk free.
If I feel the question is out of my area of expertise I will refund your purchase.
If you feel I haven't provided a good enough answer I will try again. If you're still not happy I will simply refund you.
Totally risk free. You either get the answer to your question I refund you.
The price just £49 for up to one hours work or advice.
This could be…
Up to 1hr research or development.
Up to 1 hr Telephone or Skype call.
Up to 1 hr programming.
Up to 1 hr creating a statistical report.
If I feel your request can not be done in one hour I will let you know and give you the opportunity for a full refund…Or to pay the extra I suggest to allow me to complete your request.
In most cases I expect up to one hour will be more than enough.
Just so you know the current price is a trial price.
To be honest I think and hour of my time is worth far more than £49.
But I really like helping people so I thought I would start low and see what happens.
I am not looking to fill up everyday of every month answering questions.

So If I get busy then the price will go up to slow the amount of questions down.
So this is a great time for you to use this opportunity...while the price is so low.
Ready to ask your question?
Click The Button Below to Ask Your Question Now.
Please note before you purchase: You are paying for up to 1 hour of my time. All charges based on 1 hour time slots costing £49 per 1 hour. If you wish to call me over the phone then a time and date will be given for you to call in at your cost (local call rates 0845 number).
Remember this is a risk free purchase. If you are not happy with the results or I can not answer your question then a full refund will be issued.
I really look forward to helping you.
Thanks
Malcolm
sales @ Bluebelldata.co.uk
Terms and conditions.
You are paying for up to 1 hour of my time. All charges based on 1 hour time slots costing £49 per 1 hours. If you wish to call me over the phone then a time and date will be given for you to call in at your cost (local call rates 0845 number).
I will answer all questions to the best of my knowledge with the information I have available to me.
Some questions could be answered using my own experience. In these cases the answer could be based on personal experience or circumstances which may mean the outcome I learned could have been unique and so you may not get the same outcome or result.
I can not be held responsible for any outcome that results in financial loss or gain when using the information provided.
All information will be provided "as is" without any guarantee.